Ancient Coin Showcase
Since we started offering certified ancient coins nearly four years ago, we've been shocked at how many clients have made acquisitions in this area of the market. Many of our customers who previously dealt solely in United States coinage have discovered this fascinating area of the market and are surprised to learn how beautiful, important and inexpensive ancient coins can be. We believe that this market is still in its early stages (funny, given how most of these coins are over 2,000 years old) and that truly great coins can still be acquired for very little money. Only recently did NGC Ancients start grading ancient coins, so up until then there wasn't the assurance of a grading service to certify and authenticate these items, making many potential collectors avoid ancients. Thanks to NGC Ancients this is no longer the case and the tide is turning very quickly. 
Find below a list of some of our favorite inventory selections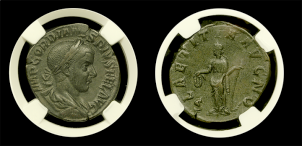 Gordian III Bronze Sestertius CHXF
We were offered a small deal of about ten of these gorgeous Bronze Roman coins depicting emperor Gordian III from around 240 B.C. and didn't hesitate to buy them all. For the price, they are some of the best values in our inventory. They are large, round, beautiful coins with a gorgeous overall patina and fantastic eye appeal.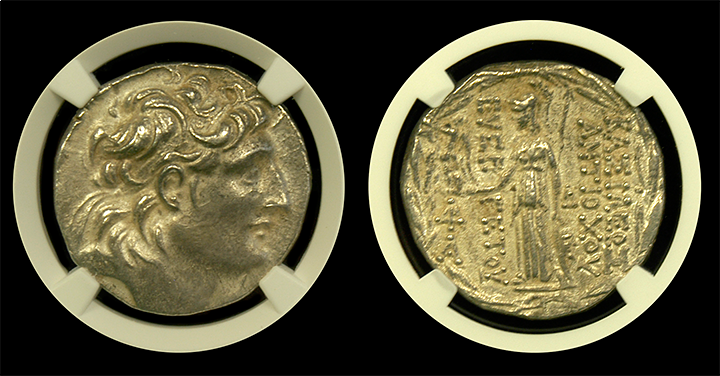 Antiochus VII Silver Tetradrachm NGC CHAU
Struck nearly 2,200 years ago, these large and intricate silver tetradrachms struck by Antiochus VII have remarkable detail and history. Besides the obvious historic importance, these coins are hand-struck in high-relief and no two coins are exactly alike. They are excellent examples of Hellenistic art. Certified by NGC in About Uncirculated condition, they are remarkable ancient silver coins, indeed. We feel that attractive, high-end ancient silver offers a great value in the current marketplace.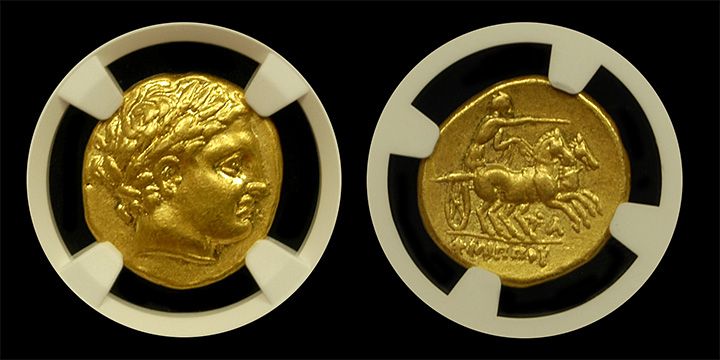 Philip II Gold Stater NGC CHXF 5x3 
This attractive Philip II gold stater was issued nearly 2,400 years ago by the father of Alexander the Great. They are oftentimes encountered slightly off-struck, however, this example is remarkably pristine and full for the assigned grade. The obverse features Apollo facing right in a very lifelike fashion. The impressive reverse depicts a charioteer drawn by two horses. A classic Greek image in all regards and this is the exact coin you will receive.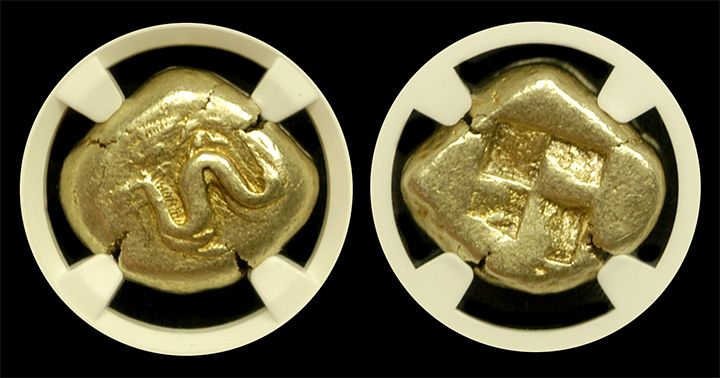 Mysia Cyzicus Electrum Full Stater NGC Very Fine 4x4
 Dating back around 2,500 years, this impressive and hefty full stater is struck from electrum--a mixture of gold and silver. The obverse is one that we have yet to encounter--the full image of Ketos--a sea monster from ancient lore. Interesting incuse punch on the back and truly a great coin for the money.


Market Tracker

AncientGoldCoins.com is excited to offer its Market Tracker app for Android and iPhone. This FREE mobile application displays live spot and historical gold, silver, platinum, and palladium charts. The Market Tracker also provides historical updates of the Dow Jones, NASDAQ, S&P 500, S&P Euro, Gold & Silver, crude oil, U.S. Dollar, and much more.

Don't be left behind and download Market Tracker from Austin Coins.com today!
Why you need Market Tracker:
   *  Live Prices and historical data 
   *  Real time spot prices 
   *  Current pricing on all products
   *  Special pricing and special offers