Ancient Coin Showcase
Top Ancient Coins For Sale
Since we started offering certified ancient coins nearly four years ago, we've been shocked at how many clients have made acquisitions in this area of the market. Many of our customers who previously dealt solely in United States coinage have discovered this fascinating area of the market and are surprised to learn how beautiful, important and inexpensive ancient coins can be. We believe that this market is still in its early stages (funny, given how most of these coins are over 2,000 years old) and that truly great coins can still be acquired for very little money. Only recently did NGC Ancients start grading ancient coins, so up until then there wasn't the assurance of a grading service to certify and authenticate these items, making many potential collectors avoid ancients. Thanks to NGC Ancients this is no longer the case and the tide is turning very quickly.
Find below a list of some of our favorite inventory selections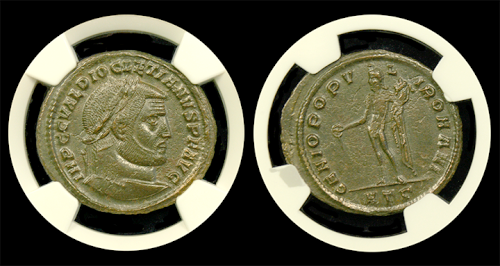 Diocletian BI Nummus NGC AU
From humble beginnings, Diocletian rose through the military ranks to become emperor of Rome, stabilizing the empire, and ending the Crisis of the Third Century. Each coin in this offering has been certified in About Uncirculated condition with remarkable detail on both the front and back of the coin. The obverse depicts a proud and strong bust of Diocletian facing right.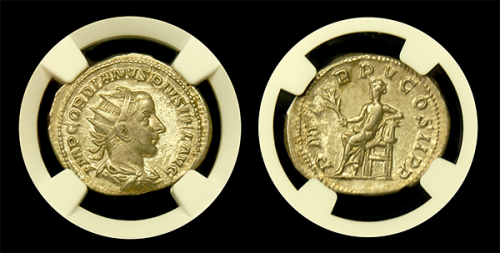 Gordian III Silver Double-Denarius NGC Extremely Fine
This large, impressive silver coin dates back to Ancient Rome. Depicting Gordian III, the youngest to rule the empire at 13, this Double Denarius is a solid value in the current marketplace in our opinion, not to mention, it's just cool. NGC Ancients has awarded the high grade of extremely fine to this 1,800+ year old coin.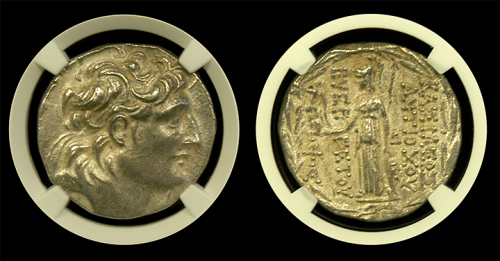 Antiochus VII Silver Tetradrachm NGC Choice About Uncirculated
This tetradrachm struck nearly 2,200 years ago by Antiochus VII has remarkable detail and history. It shows clean fields, a bold strike, and detail that is extraordinary. The obverse depicts Antiochus VII facing right and the reverse has a standing figure surrounded by implements and markings.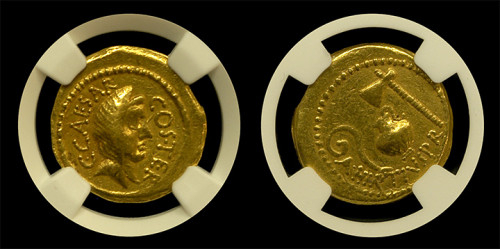 Julius Caesar Gold Aureus NGC CHVF 5x4
The first Roman Emperor, Julius Caesar, is known around the world over 2,000 years after his demise. This gold stater has seen circulation in the past and it makes you wonder just where it has been.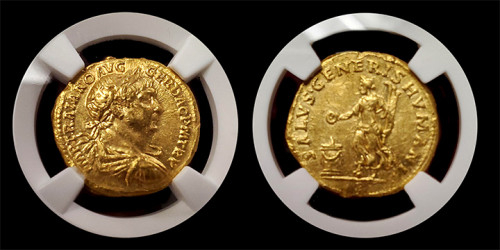 Trajan Gold Aureus NGC CHAU 5x3 Fine Style
This gold aureus issued under Emperor Trajan is an absolutely stunning example of high-end Roman gold coinage. Struck between 98 and 117 AD, this coin depicts the emperor on the front facing right. The strike is centered and perfect with remarkable detail. It has been awarded the Fine Style designation, implying it to be of the highest artistic quality.

Market Tracker

AncientGoldCoins.com is excited to offer its Market Tracker app for Android and iPhone. This FREE mobile application displays live spot and historical gold, silver, platinum, and palladium charts. The Market Tracker also provides historical updates of the Dow Jones, NASDAQ, S&P 500, S&P Euro, Gold & Silver, crude oil, U.S. Dollar, and much more.
Don't be left behind and download Market Tracker from Austin Coins.com today!
Why you need Market Tracker:
* Live Prices and historical data
* Real time spot prices
* Current pricing on all products
* Special pricing and special offers