Ancient Coin Showcase
Top Ancient Coins For Sale
Since we started offering certified ancient coins nearly four years ago, we've been shocked at how many clients have made acquisitions in this area of the market. Many of our customers who previously dealt solely in United States coinage have discovered this fascinating area of the market and are surprised to learn how beautiful, important and inexpensive ancient coins can be. We believe that this market is still in its early stages (funny, given how most of these coins are over 2,000 years old) and that truly great coins can still be acquired for very little money. Only recently did NGC Ancients start grading ancient coins, so up until then there wasn't the assurance of a grading service to certify and authenticate these items, making many potential collectors avoid ancients. Thanks to NGC Ancients this is no longer the case and the tide is turning very quickly.
Find below a list of some of our favorite inventory selections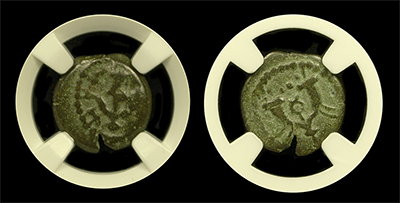 King Herod the Great Bronze Prutah NGC Fine
Bronze Prutahs, or "Widow's Mites" are mentioned numerous times in biblical scripture and these coins are authentic examples of this revered historic artifact. Most widow's mites are heavily worn due to extensive circulation and their exposure to elements over the past two thousand years, however, we bought a small group of the finest ones from a recent find.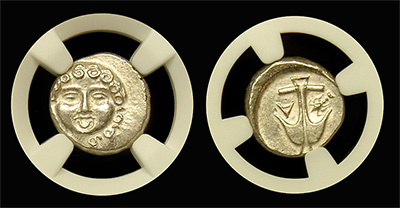 Apollonia Pontica Silver Drachm Mint State NGC
Pedigreed from the famous Golden Age Hoard, these 1,800 year old Roman Denarii are great looking coins for the price! Choose from Trajan, who ruled from 98-117, or Hadrian, who ruled from 117-138. Both are noteworthy Roman Emperors and great coins for the price.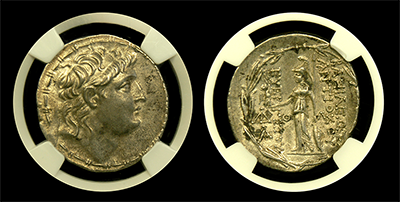 Seleucid Kingdom Silver Tetradrachm NGC About Uncirculated
This tetradrachm struck nearly 2,200 years ago by Antiochus VII has remarkable detail and history. It shows clean fields, a bold strike, and detail that is extraordinary. The obverse depicts Antiochus VII facing right and the reverse has a standing figure surrounded by implements and markings.
Only $695 - also available in Choice-AU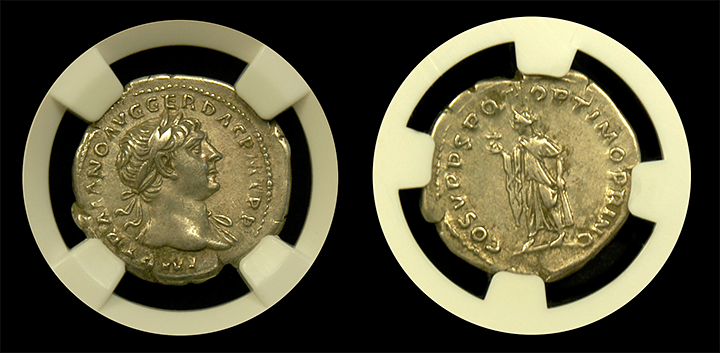 Trajan Silver Denarius NGC Extremely Fine Star
For the assigned grade, this silver Denarius of Emperor Trajan is a real stunner. The detail is extraordinary, which is exactly why NGC gave the coin a STAR designation. Trajan ruled from 98-117 AD and coins bearing his likeness are highly desirable.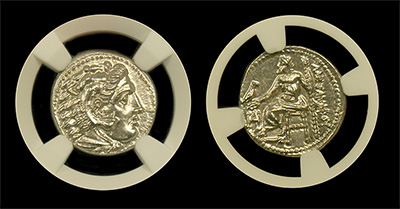 Alexander the Great Drachm NGC Choice Mint State Lifetime, Fine Style
As of today, there have been NO coins graded higher by NGC Ancients for this beautiful issue struck during the rule of Alexander the Great. The obverse depicts Hercules with a lion-scalp helmet and the reverse features Zeus atop a throne holding an eagle, with various symbols, some mintmarks.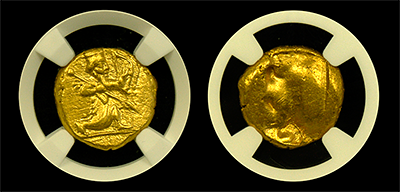 Artaxerxes Gold Daric TY3 NGC Mint State 4x4
Considered a 'Type Three' Persian Gold Daric, this razor sharp example has survived the past 2,400+ years in a remarkable state of preservation. The obverse of the coin depicts the Persian Hero-King in lifelike form ready to attack the enemy with bow and spear in-hand. The reverse has an incuse punch that occurred when the coin was struck. Type 3 gold darics in mint state condition are difficult to locate, particularly at this price point and level of eye appeal.


Market Tracker

AncientGoldCoins.com is excited to offer its Market Tracker app for Android and iPhone. This FREE mobile application displays live spot and historical gold, silver, platinum, and palladium charts. The Market Tracker also provides historical updates of the Dow Jones, NASDAQ, S&P 500, S&P Euro, Gold & Silver, crude oil, U.S. Dollar, and much more.

Don't be left behind and download Market Tracker from Austin Coins.com today!
Why you need Market Tracker:
* Live Prices and historical data
* Real time spot prices
* Current pricing on all products
* Special pricing and special offers